Dyntra, the Social Hub of Transparency and Open Government, invited at the UN Headquarters to participate in the International Day of Happiness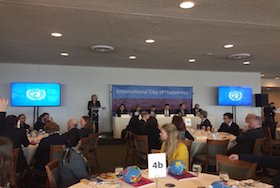 Dyntra, the Social Hub of Transparency and Open Government, invited at the UN Headquarters to participate in the International Day of Happiness
New York, March 21st, 2018
Dyntra.org, based in Málaga (Spain), was invited as an honourable guest by the UN to take part yesterday in the UN official event for the International Day of Happiness at UN Headquarters in New York.
The Happiness Day is an initiative of the United Nations Organization that was born, by resolution 66/281 approved by the General Assembly, to recognize the relevance of happiness and well-being as universal aspirations of human beings and the importance of their inclusion in Government policies in order to promote the involvement of governments in the development of policies that promote social welfare.
The Global Happiness Counsel celebrated this year the International Day of Happiness with the presentation of the World Happiness Report 2018, which was co-authored by Jeffrey Sachs, John Helliwell and Richard Layard for the UN Sustainable Development Solutions Network. During the event, with the Ambassadors from the Permanent Missions to UN such as Germany, Canada, Costa Rica, Ecuador, Slovenia, Kazakhstan, Mexico, Portugal, Bhutan, UAE, Uganda, Vietnam and Trinidad and Tobago as well as a selective group of civil society representatives, Erwin de Grave, International Relations Director & Co-founder of Dyntra, explained that one of the requirements of happiness is trust, the trust that people have in their government. The only way for governments to obtain the trust of their citizens is through being transparent and accountable. The challenge is big for governments as it is not only about showing that they are transparent and accountable, it is about a fundamental change within the public organisation itself that will lead to a more happiness and trust.
The need for a more inclusive, equitable and balanced approach that promotes sustainable development, the eradication of poverty, happiness and well-being of all peoples is recognized worldwide. For this, the transition to more open government models that promote welfare and social justice is necessary. In all this, transparency plays an essential role as an indispensable element to guarantee a quality democracy. The Dyntra Platform works on the promotion of transparency through dynamic evaluation, having evaluated more than 4000 institutions, among which stand out in Spain: Ministries, Autonomous Communities, City Councils, Provincial and Island Governments, Courts of Accounts, etc. In addition to many others at an international level.
Dyntra is an open and non-partisan organization that promotes public transparency and citizen participation as principles of open government and indispensable requirements for a quality democracy.